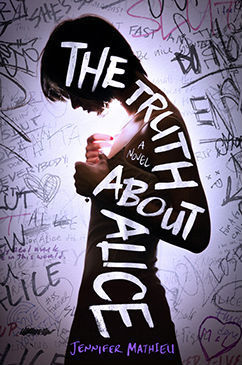 This is my 100th book review posted to this blog!
The
Truth About Alice
By: Jennifer Mathieu
YA Contemporary
Published: June 2014
The book begins with the assertion that Alice Franklin is a slut. The story is told from four different points of view, people who know Alice Franklin, but not Alice herself until the very last chapter. A cool concept that reminded me of Siobhan Vivian's The List.
What the book does brilliantly is shows how quickly rumors spread, and how toxic our culture can be to young women. A credit to the author, each character point of view has value and nuance, even the "bad" people, because we are shown through their voice why they say and do the things they are doing. Alice is shown at times as a victim, a bully, a mystery, a cool girl, a loner. We see the history of her current friendships and the aftermath of the party that changes everything. And there are a few twists. This reads almost like a mystery, with the mystery being what truly happened to Alice Franklin.