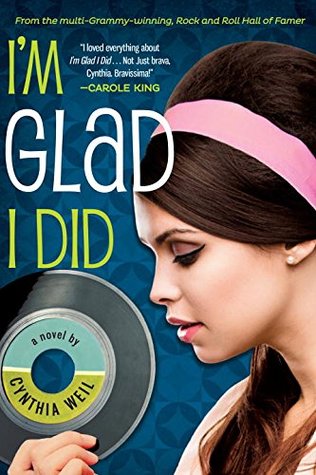 I'm Glad I Did
Cynthia Weil
YA Contemporary 1960s
Published: January 2015
This is a great read for younger teens or tweens ready to "read up." Set in 1963 in the music industry, 16-year-old burgeoning songwriter JJ struggles to find her place within her family and among the cultural shifts of the civil rights era. The author is a songwriter who worked in the music industry during this era, which is a fun angle.
JJ feels like the outsider in her family, who frowns on the music industry and creative pursuits. The summer before college (though she's still 16?), JJ strikes a deal with her attorney parents: she can keep the music industry job she just landed so long as she sells a song by the time school starts.
She's learning a lot, but soon the evils of the industry her parents warned her about start to show. JJ has an industry family member who takes her under his wing. Soon, she's seeing just how the deals are made, or not made, and evidence of family secrets. All this is set in the midst of a tumultuous summer of civil rights unrest, protest, and a call for change. Interracial relationships are explored--JJ is Jewish and she has a budding relationship with an African-American boy. The theme of justice runs throughout (cute or not--your call, JJ's real name is Justice, named by her attorney parents).
Given the younger storytelling voice and the moderate depth to which the book explores cultural issues, this is a good option for the younger spectrum of YA.