Happy Friday!
I've gathered some great writing opportunities coming up in the next few months that will help with writing craft and preparation for pursuing publication:
Can't make it to one of the big summer conferences?
Write On Con
is an online writing conference held August 14-15 focused on children's lit: Young Adult, Middle Grade, picture books, chapter books. It's free, and to register you just need to create a sign-in for the
WriteOnCon forums
. The forums are open now and writers are already trading feedback on opening pages and query letters.
The conference is a mix of hosted forum events where literary agents and authors weigh in on pitches, query letters, writing excerpts, along with hosted live chats, blogs and video blog posts. With exception of the live chats, everything else you can catch up with on your own time, and the content remains available after the conference.
I participated last year -- it's a great way to connect with other writers, and learn about publishing and writing. (Did I mention it's free?)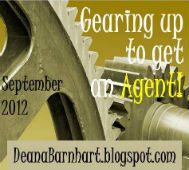 Next up: Are you finally FINALLY finished with that novel you've been working on for a year and some change? (*ahem,* that would be me, and by "finished" I mean I've written an ending, but am actively editing).
Gearing Up to get an Agent
is hosted by Deana Barnhart, a YA writer. This is a series of events in September on how to prepare your writing to pursue publication. It's an opportunity to polish pitches and strengthen writing submissions within the hosted blog community, then it all follows up with an agent-judged pitch opportunity -- she's lined up 8 - 10 agents! This is NOT strictly YA, and it will depend on the agents involved which genres they are looking for (more to come according to the blog!).
The event also features publishers from small presses for writers wanting to explore options other than the traditional agent route. Check out her blog to see if this might be an opportunity for you!
Looking for feedback from people in the industry? Try entering your work in a contest. Tons of resources exist online depending on what you write, but read through submission guidelines carefully to see who judges contest work, what any required fees go toward, and most importantly, whether you receive feedback forms. All of these factor in to whether it will be of benefit to you.
Romance Writers of America (RWA - which I joined this year) has tons of
contest opportunities
hosted through local chapters. You don't have to be a member to enter. Most of the RWA contests follow the same structure: your entry is read by at least 1 published author who then (in most cases) provides a feedback form with comments based on your work. Finalists go through to a publisher or agent-judged round (Some writers have found agents through these contests). The attached fee -- I've seen anywhere from $15 - $35 for an entry -- goes to the hosting chapter. Considering these authors are reading through entries in their free time, I think the fees are fair.
Image: Public Domain pixabay.com
If you write Young Adult, many of the contests don't limit the YA entries to romance -- each chapter tailors the contest to their own preferences. Other categories might include historical romance, romantic suspense, paranormal/fantasy.
Here's a great site that tracks a lot of the RWA contests and more:
Stephie Smith's Contest Chart
.
My local chapter Windy City RWA is hosting
The Four Seasons Contest
with a September 1 deadline (it looks like the 2012 info is not yet up but we'll get on that quick!). The YA judging agent is
Sara Megibow
. She's famous for her #10queriesin10tweets on
twitter
. If I could enter this I would -- she's a rock star agent!
I hope you explore some of these links and pass them forward. I'm grateful to you all for sharing information like this over my past few years of blogging -- the writing community is so supportive!